Am I the only Lesbian who will publicly admit that I enjoyed the 2021 Film: The World to Come? ★★★★ –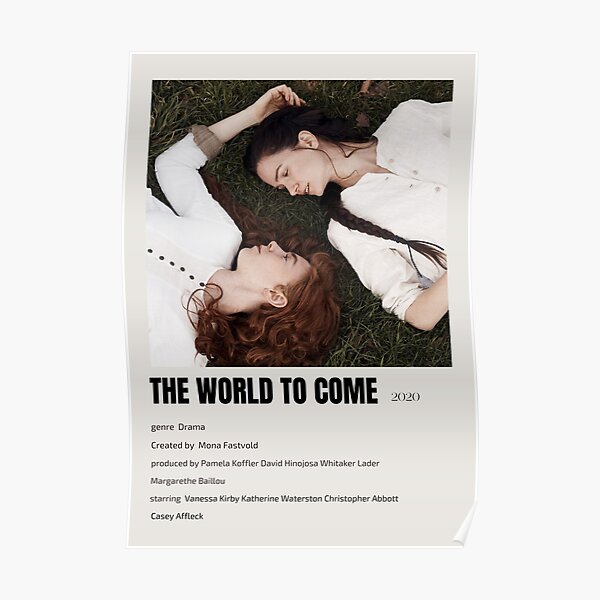 The World to Come
THE WORLD TO COME | Official Trailer | Bleecker Street
For me, The World To Come is inarguably the BEST LGBTQ film of 2021.  Directed by Mona Fastvold the Queer Lion-winning filmThe World to Come, adapted from a short story by Jim Shepard, immerses the viewer in the bleak daily life of a contemplative mid-nineteenth century woman, Abigail (Katherine Waterston), living on the stark, unforgiving Northeastern frontier with her husband Dyer (Casey Affleck).  Maybe I wpould have been swayed into feigning dislike for this movie had I been apprised of the heinous and sexist behavior of Casey A.

But, even when the incident first occurred, I was unawares, to the point of not understanding what all the protest was about during the Academy Awards. Shame on Me for that.  But, this was a great film that was Masterfully Directed and acted by the female leads.
Yet, it seems like I am the ONLY lesbian who actually will publicly admit that I enjoyed the movie.
I enjoyed it because it was true to the time it was set, a time when the secondary status of women left them vulnerable to the "Rule of Thumb," a time when medicine was still in it's infancy and disease held free reign over settlers.
I didn't view this as a 'bury your gays' movie, because from the outset it was revealed that Tallie was sick. It's safe to interpret this revelation as a  foreshadowing and harbinger of a death to come.
In fact on more than one occasion, Tallie either mentioned having a cold or asked Abigail if she "was sick also" (A question that Abigail always answered in the negative), starting early in the movie.
The World to Come wasn't advertised as a fantasy movie, which is what it would have to had been in order to overcome the harsh realities of the time that it was set in.
Strange, but on YouTube, a negative review by LadyParts resulted in a robust defense of a well-acted and beautifully directed film, but publicly it seems the thing to bash the movie because it was executive produced by Casey Affleck. Not condoning Affleck's behavior doesn't mean that I must punish Mona Fastvold because she directed this movie.

If the movie hadn't been executive produced by Casey Affleck, then the director probably would not have gotten the budget she did, nor the actors. If this movie had been crowd funded…Well..I've seen what we lesbians fund, and unfortunately most of those movies lack a certain level of emotional depth.
The film opens "with little pride and less hope" on New Year's Day in 1856, around three months after the couple have lost their only child to illness (Diptheria).
Abigail's grief is easily matched by the harsh winter and by moody, almost monochromatic cinematography.
in the opening section of the film. Their sombre, monotonous lives are interrupted by the arrival of a couple renting a nearby property to use as a pig farm, the austere Finney (Christopher Abbott) and his cordial wife Tallie (Vanessa Kirby), whom Abigail is immediately intrigued by, and although it's not a word she would use, quickly smitten with.
As the two women spend increasingly more time with one another the frost thaws and the film's color palette warms with spring's arrival.
Following the death of their young daughter, Abigail has been turning down Dyer's advances (there is literal ice in their bedroom), while the bitter, sometimes outright spiteful Finney complains that Tallie is not fulfilling her wifely duties and resents that she has not yet borne him a child.
Meanwhile Abigail struggles to articulate what her new female companion means to her, but their mutual attraction to one another is palpable and by the time summer arrives the two women begin to express their devotion physically (although we only see the sex scenes in a montage flashback later on in the film).
Nonetheless, Fastvold,\ has  created an atmosphere of such tension and anticipation, and the chemistry between the actors is such, that even the women's fingers gently touching for the first time is filled with a promise of things to come.
Dyer uses his ledger to keep the accounts on their farm, Abigail uses hers as a personal journal to express her feelings, the contents of which are relayed to us by voice over throughout. Waterston's voice is beautifully expressive and Abigail's writing, particularly given the period stylings, has a lyrical, almost melodic quality to it.
And it was exactly that, the sound of Katherine Waterston, speaking as Abigail, that kept me watching the movie.  I had been sitting sideways in a chair, much as one often does prior to getting up and starting some long awaited project. As the narration ended and the action began, I would endeavor to begin working on whatever I was doing and before I knew it, Abigail's narration resumed, once again locking my attention to the screen.

Although, at times the narration never felt in danger of being overused,  and the nuanced lead performances, combined with the voice over kept the narrative's perspective focused, bringing an intimacy and heightening the sense of Abigail's isolation.
There are also moments of effective contrast where we learn what Abigail is thinking, the questions that deeply trouble her when Tallie is caught in a snowstorm, and what she actually says out loud to Dyer about animal feed supplies.
The voice-over also deepens the film's poignant themes of unfulfilled hopes and expectations, being at the mercy of nature, and a woman's place in the world, filled with duties, chores and its lack of progression since the arrival of Abigail's ancestors on the frontier.
Fastvold uses composer Daniel Blumberg's unsettling, score sparingly and there's an gorgeous, ethereal and heartbreakingly mournful song on the end credits performed by Josephine Foster that's likely to have you weeping as you take in what's happened over the the last 140 minutes. The power of The World to Come creeps up on you, doesn't let go once it takes hold, and cuts deep.
For The 21st Century
'Frontier' Woman