Bea Smith found love in a hopeless place. Now it's official — Bea Smith is dead.
Those Cheekbones OMGoddess
Wentworth's season 4 (series final for me) final saw the program's most iconic character Bea Smith (played by Danielle Cormack) die at the hands of Joan 'The Freak' Ferguson, played by Pamela Rabe.
Ferguson stabbed Smith 7 times to 9 times with a screwdriver that she disarmed from Bea Smith, but only AFTER Bea Smith Intentionally took Ferguson's hand and impalied herself with the screwdriver 7 times!
Shocked, Ferguson quickly regroups saying: "This is what you want" and continues stabbing Smith for a total number of stabbings amounting to 14.
Getting stabbed in the abdomen is the worst type of injury because the likelihood of death is greater due to blood loss, even if medical attention is immediately sought.
As the last episode of season four ended, Smith poetically dies at the exact same moment as her new girlfriend Allie Novak— (Also a victim of 'The Freak,' who loaded her up with a lethal hot shot of class A drugs) regains consciousness. It was like Juliet and Juliet. Still though, are they friggin kidding me?
As Smith dies, Allie (Kate Jenkinson) miraculously came back to life after doctors had all but written her off? No freaking way.
Hmm, Maxine had informed Bea that the doctors said that Allie had developed "Acute Respiratory Syndrome" and could n o longer breathe on her own.
If the respirator was shut off, Allie would stop breathing and die. The news sends Bea over the edge. Upon hearing such bad news Bea Smith spirals into an inconsolable and  insanity fueled sense of grief and rage. deciding to take 'The Freak' down and commit suicide in the process, presumably to be with Allie and her own daughter Debbie who was died from a drug overdose.
Why did the doctor's jump start Allie's heart after it stopped? If she couldn't breath on her own, wouldn't that have meant that she'd be connected to a respirator for the rest of her life?
Probably because doctors take the Hippocratic oath and are dedicated to saving lives, not determining when life ends.
Besides according to the writers of Wentworth, using a defibrillator not only restarted Allie's heart, it also restored her ability to breath on her own.
I don't know about you but this is very "sketchy" writing to me.  Must have been written by a Millennial.
The show's diehard fans (Like me) hoped for a similar miracle with Bea Smith, the flaming heart with the flaming hair of Wentworth.  This is where my own Cognitive Dissonance immediately jumped into over drive searching for a rationale that could possibly result in Smith returning for season 5.
I rationalized that surely there were people who survived worse (Really? Well Maybe…)
Then when I saw the amount of blood pooled around Smith's body, I knew that all hope was lost.
The producers of Wentworth have confirmed that Bea Smith, and Cormack, will not be coming back to the Foxtel program.
They took a major risk in killing off one of the most popular and iconic characters created on Australian TV — stretching back to her first arrival as part of Prisoner.
"It is always an incredibly difficult decision to say farewell to a much-loved and revered character like Bea Smith," Jo Porter, Wentworth's Executive Producer confirmed in a statement.
I really don't like producers, they seem so disingenuous. Danielle Cormack wasn't eager to leave the show and frankly for me 12 episodes are not enough for a season, either on American or Australian or even British television.
What made the prison series OZ (HBO) so good was that there were over 20 episodes each season, allowing the series writers enough time to flesh out characters resulting in character development that had depth.
So imagine if you have characters whose onscreen chemistry is so strong that it lights up everything in just a few episodes, imagine the possibilities that awaited viewers in season 5.
I NEED More of This:
No I won't give examples because I had done that in the past and saw my work end up on The L Word and was subjected to hearing interviews with Ilene Chaiken claiming that: "Ideas, are just floating in the ether for anyone to take." [Sic] I call BS to that, after source material seemingly vanished (removed) prohibiting the writers of the LWord from continuing to a season 7. Why didn't Chaiken just pull the thoughts out of the air and save her sorry ass lesbian themed soap opera from cancellation?
Season 4's storyline in Wentworth had such a huge impact on fans of Ballie because the decision meant saying goodbye to Danielle Cormack.
Cormack, who had been with the show since the first episode, is in Cambodia doing charity work and unavailable for comment.
Eagle-eyed fans saw Cormack posting from overseas on social media meant she wasn't in Melbourne to join the rest of the Wentworth crew who begin filming series five on Monday.
"Danielle is a magnificent actor, her powerful, brave and nuanced performance has been acknowledged with awards and accolades from fans and critics worldwide and I hope that I am lucky enough to work with her again," Porter said.
"We will be forever indebted to Danielle for bringing Bea Smith to life in the first four seasons of Wentworth." Whatever, it's kind of like being fired and told that there are fabulous things awaiting you.  Maybe there are, but STFU already.
Sources say producers deliberately wrote Bea Smith's character out of the show for dramatic purposes, rather than Cormack wanting to leave the series. Was she forced out pf the show because of her age?
"Wentworth has built a reputation for risk-taking, high emotion and bold storytelling, and once again, the season four finale proves no one is safe," the statement continued. "As producers, it is always our intention to keep audiences guessing and on the edge of their seats.
The shoes of Bea Smith will be hard to fill, with the start of season five the gates of Wentworth Correctional Facility will again open to a raft of potential new stories and characters."
Killing off a much-loved character is another spooky link to fellow female prison drama Orange is the New Black, who knocked-off Poussey in their own final episode this season. Which was a bad move for that show also.
Theories are already raging about why Bea Smith would be written out.
The character had a less dramatic season four (fair enough, after almost dying in a fire on the last series cliffhanger) and had stepped down from being Top Dog by the final episode, replaced by Karen Proctor (Tammy Macintosh).  Jeez I didn't like Allie Novak with Karen Proctor.
The Chemistry between Novak and Smith was off the charts in my rating system.
Is Allie Novak's survival at the end of season 4 enough to lure me back for season 5? NO it isn't.
It was great seeing an actress (Danielle Cormack) in my age demographic in a leading role and in a positive lesbian relationship (albeit a prison romance).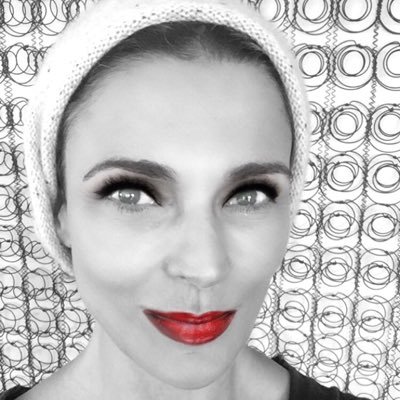 Now that has been taken away, good drama that leaves some viewers (Like me) absolutely nothing but another actor in my age demographic: Pamela Rabe and she plays the psycho Governor from hell (And lesbian Joan "The Freak" Ferguson).
I have no desire to see what happens to this character is season 5.
Bea Smith was militant about stopping drug use behind bars (her daughter Debbie died of an overdose) Bea nursed Allie through cold turkey and enjoyed her first climax during an intimate moment on a prison bed.
Sadly her solitary post-coital glow was ruined by The Freak escaping with the help of bent (and occasionally incontinent) screw Jake Stewart (Bernard Curry) and stabbing Allie in the shower with a syringe filled with drugs (Supplied by Jake Stewart again) and she was serving life in prison for her revenge murder of Brayden Holt (who killed Smith's daughter with an aforementioned overdose).
In the season finale the contraband phone Smith talked prison boss Vera into letting her use to 'record' a confession from The Freak was left behind in favor of a more handy screwdriver.
Was Bea Smith seemingly being killed by The Freak (as opposed to her using the tactics mentioned at the beginning of this post) a thinly veiled "Death Wish"?It was a bit of both, done in front of witnesses. Ferguson's fingerprints are the only one's on the murder weapon (Because Smith was covering Ferguson's screwdriver wielding hand with her own) making Smith the  victor in a gruesome battle that was never going to end happily.
Final love: Bea and Allie's relationship blossomed in prison kitchens and bathrooms.
Hairdresser Beatrice Alice Smith was unlucky in love — until her final days. Her husband Harry was a piece of sh!t— she was in jail for trying to kill him.
ALLIE Novak
This year Bea found the love of a good woman:  Allie Novak, a gay drug-addicted prostitute who was caught up in Kaz Proctor's (Tammy Macintosh) retribution group Red Right Hand.
Their relation ship  revealed a tender side to Smith and  their love scene wes applauded for not exploiting same sex intimacy for grubby perv ratings.
Allie was given refuge by Kaz and the pair tracked down the men who'd assaulted her over the years. As such, says Jenkinson, Allie owes a debt towards her protector.
The show is aware it has an enormous following in the LGBT community. Kate Jenkinson did some incredible work this season as Allie Novak.
While reluctant to give too many details into what to expect in season 5, Jenkinson did confirm that she will get to interact with Joan 'The Freak' Ferguson (Pamela Rabe), who will herself be a Wentworth inmate when the show returns.
Some shows however do onscreen relationships between women justice as in my article that you can read HERE