On the Road to $100m – UPDATE 3.29.2018
This is very important because just buying a ticket and watching the movie Wonder Woman isn't enough to get more movies about women, made by women. 
I want Theron or whoever to make more movies like this (With the exception of killing off the only Lesbian characters) and at earning nearly 90m worldwide
and growing, Atomic Blonde2 may just become a reality.
A female driven action movie Atomic Blobde had a same sex romance and a where the lead actually did the majority of her ow n stunts.

YAY!  But Atomic Blonde could have used more help:
The 1980 movie Cruising that starred Al Pacino as a New York City detective on the trail of psychopath is scouring New York City gay clubs and viciously slaying homosexuals. Detective Steve Burns (Al Pacino) is ordered to don leather attire, hang at the city's S&M joints and keep an eye out for the killer. But as Steve becomes immersed in club hopping, he begins to identify with the subculure that he begins to question his boundaries.
 What is important to note that there was alot of backlash from the gay community concerning the depiction of possibly a gay man as a psychotic murderer and all of the gay victims.  People actually protested outside of theaters.  The effect of all that made the movie the subject of nuch interest and resulted in the film becoming a =n isonis depiction of suspense.
The sane thing happened with the Silence of the Lambs, there were actual and real protests in from of theaters, and the next thing you know the movie wins and academy award.
That's why it seemed like all of the other lesbian, bisexual, queer sites wouldn't help to promote the movie by posting nonstop about it like they did for the Ellen Page movie: Whiplash or for that insufferable Rizzoli&Isles
  Seemed like they wanted it to fail.  What other reason could there be?  Goddess knows that they droned on incessantly if a product features Cate Blanchette or or that goddess awful Tina Fey. So yeah the vindictive B!tch in me was ecstatic to see this:
Atomic Blonde

/

Box office
Atomic Blonde (2017)
Important Because This Movie Has a Female Lead Pushing the Narrative and Features a: SAME Sex [LESBIAN]Relationship as the only romance in the:

ENTIRE movie!!
his is the movie that many  lesbians [Including Yours Truly] lost our collective minds over:Carol/Box office
Made Only 40.3 million USD
Sure the movie Carol was an emotional hit and I was mad as hell when the movie was shut out at the Academy Awards, but Here's The Thing: (Because isn't it always something?):  The main character in the movie: Atomic Blonde: Lorraine Broughton only and let  me repeat this: The main character Lorraine Broughton ONLY became romantically involved with the Female French Operative, Delphine Lasalle. There was NO Mr. Aird a.k.a Mr Atomic Blonde snooping around and spying on his estranged wife and her female lover.

 In the graphic novel  The Coldest City written by ANTONY JOHNSTON  originally had the protagonist romantically and sexually involved with a male French spy. However the producer (Charlize Theron) wanted to display that vulnerable side of her character with a woman, and she did so in a way that was NOT gratuitous., because those characters really did display an emotional connection as well as a physical one and a big deal wasn't made of it.
The relationship existed without any fanfare or backstory.  Sadly I don't think lesbians today are ready for that. My ONJLY complaint concerns the fact that Broughton failed to even try to save or resuscitate Delphine after she found her.

So how is this a payoff to my emotional investment to the success of this movie? Well here we go:
I haven't been very happy with the domestic box office run for Focus Features' Atomic Blonde over the last month. The mostly well-reviewed/well-received action thriller, which stars Charlize Theron as a kick-ass Cold War-era spy in Kurt Johnstad's adaptation of Antony Johnston and Sam Hart's graphic novel The Coldest City, sold itself as a kind of female James Bond-ish caper, although it plays more like John le Carré than Ian Fleming And partially because it was directed by David Leitch (one half of John Wick's directorial team) and partially because of "female John Wick" comparisons (Which I fcuking HATED). But on that note, we should note that the $30 million-budgeted action thriller has now made more ($50m) in North America than John Wick ($43m).
While the official budget for Lionsgate's John Wick was $20 million, in truth it was closer to $30m. I bring that up because it puts the two films on equal financial footing, at least in terms of production cost. Lionsgate acquired John Wick and saved it from a likely VOD fate, and in record time fashioned a mainstream marketing campaign that A) highlighted how good the movie was, B) highlighted that it wasn't a VOD-worthy action movie (hence the IMAX play) and C) sold the picture's release as a kind of generational coronation for Keanu Reeves. Cue a much bigger than expected $14m debut, $43m domestic total and $88m worldwide. And thus a franchise (and possible multi-platform expanded universe) was born.
While produced and distributed by Focus, with a crowdpleasing premiere at this year's SXSW festival led to Universal (both of which are owned by Comcast) taking over marketing duties and attempting to sell the film as something more mainstream than The American or The Debt. And coming off the white-hot success of Wonder Woman and with Theron coming off Mad Max: Fury Road, there was reason to hope that the picture would perform (relatively speaking) not entirely unlike Salt or Lucy. But, even with mostly positive reviews and some great trailers, the film did… merely fine. It opened with $20 million and will make it to $50+m domestic, with $20 to 40+m worldwide thus far and a handful of overseas territories yet to open and that's not including Blue Ray/DVD sales.
So even though the movie wasn't the blow-out I hoped it would be, in the end, it will likely make just over/under the $88 million worldwide like John Wick on a similar production budget. And, if I may, it's the kind of title that should have a strong post-theatrical shelf life. So if we argue that Atomic Blonde was sold as "Jane Wick," then it's tough to argue that it wasn't a solid hit with a similar budget and box office take that surpassed John Wick. The notion that one was a surprise hit shouldn't make the other less worthy. Even if Atomic Blonde was less buzzy and thus less sequel-friendly than the 2014 Reeves shoot-em-up,

you don't need to establish a franchise to be a hit.
One of the fun things about John Wick's success was that it was an accidental franchise. In this era of preordained franchises, where 1/3 of the running time is spent setting up the next six movies, John Wick was a one-and-done that had just enough external content to justify a slight expansion for a second go-around. And yes, Atomic Blonde does follow some of the tropes of the mostly stand-alone 007 films to a tee, even when it offended some folks (there is the love interest which I thought was great just because it's a

refreshingly nonchalant same-sex relationship

). Atomic Blonde doesn't have to justify Atomic Blonde 2 to be considered a success. 
A sequel-worthy run is not the bar for success. Even in these franchise-friendly times,
Merely being a financially successful movie is enough.
Atomic Blonde is a $30 million action thriller that has ALREADY made as of Aug.31st, 2017: Domestic Box Office$49,271,225
domestically and (hopefully $40-$50m)

overseas bringing it well OVER $100.00m.

 
Atomic Blonde is a responsibly-budgeted product that
boasts good performances, a great soundtrack and at least one all-time classic action sequence like
That GLORIOUS 5 Minute Fight Scene. And, to its credit, it boasts a stand-alone story that doesn't end on a glorified cliffhanger.
Theron aced it with Atomic Blonde by achieving that elusive Female action star status. Seriously Yo, I haven't scene another actress who has displayed the stamina required for this type of role.
Taraji P. Henson, Listen Up! You Better Bring It when your Proud Mary movie drops in 2018.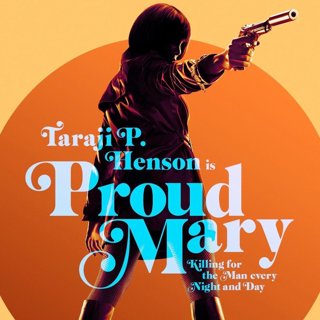 Let's be real, t

he trailer for Proud Mary shows little to no physical action scenes featuring taraji P. Henson but a lot of gun play. Well there was a scene with Henson sliding on the floor shooting a gun, but I think Theron has set the bar so high that is going to make other action scenes performed by female actors seem like a snooze fest. Isn't that right Red Sparrow, I mean Jenn fer Lawrence?

Let's be clear here: There have been action movie with female leads who also performed their owb stunts like in the movie:  like Angel of Death (208) starring stunt-woman
Zoë Bell as Eve as an assassin who becomes haunted by one of her victims following a near fatal injury to her brain. Becoming a rogue assassin settling the score with her former mob employers. 
The movie was good and since I had been thoroughly impressed by Bell's stunt-work (In that infamous scene with her on the hood of a speeding car) in Death Proof:
from the Tarantino movie Grind-House anthology, I watched Angel of Death.  Now being a 'Lookist' here's is where I am going to get in trouble with my community:  I'd rather look at Charlize Theron  perform stunts.
However, I'd love to see more movies like Atomic Blonde and even Angel Of Death alongside the male-driven action flicks, which makes me kind of sad, because I am kind of disheartened by the Lesbian community with all of the bitching and whining concerning visibility.
So if you are a lesbian and didn't support a movie that you could have seen for only $5 (As an AMC theater Club Member.)  Then you deserve a Lorraine Broughton inspired Punch in the Neck or elsewhere:

In Wonder Woman Gal Godot DIDN'T do anything close to the stunts Theron did.
A sequel would be an unexpected surprise and   although I'd love a sequel, especially if the main character hooks up with another female {Highly unlikely though.)