The UNBELIEVABLY Tragic Life of Camille Claudel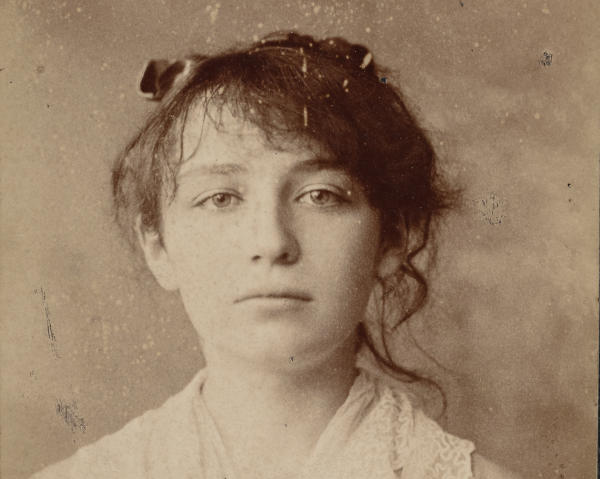 In the 1990s I rented the movie: Camille Claudel, from BlockBuster Video, not because of the fact that the movie: Camille Claudel won 5 Cesar awards in France (The Cesar is the French equivalent of Hollywood's Oscar).  Rather, it would be because I was quite taken by the beauty of the actress on the cover of the VHS tape; Isabel Adjani.
Adjani's more than passing resemblance to the legendary artist all but assured that the actor was on her way to A-List  celebrity status.
It would be difficult to find another life as tortured and tragic than that of Camille Claudel. She was the brightest and most gifted of all women sculptors of her day. Her destiny and fate it seems was sealed not only on the date of her birth to a cold unloving mother but the day she met Auguste Rodin.
Camille Claudel at age 17, moved to Paris from her natal home in northern France in order to study under Alfred Boucher, a noted sculptor at that time.She was denied being admitted to the Ecole des Beaux Arts because of her gender. When Alfred decided to return to Florence to teach, he asked his friend and fellow sculptor Auguste Rodin to take over his students.
It was a fateful day in 1883 when at age 19, the young pretty Camille with deep blue eyes first met Rodin, who was then 43 years old and fairly established within the art community of Paris.
Although Rodin lived in concubinage with his long time companion Rose Beuret, it was not long before the two became lovers.Rodin saw in Camille the astonishing talent and preyed upon her needs for admiration and love to elicit her passionate devotion not only to help in his own artwork but for himself.
Auguste Rodin was narcissistic to the core , and 24 years her senior, he emotionally devoured Camille robbing her of her youthful innocence and trust, and eventually wove an intricate and complex web of emotional torture, that she would never escape.
In order to gain greater understanding of the emotional complexities of this woman we go back to the beginning.
Camille Claudel  was born in 1864 to a woman, who had hoped for a son, as her mother had lost a male newborn only a year before Camille's birth. Even her given name, Camille , reflected this ambiguity of her mother, as it is used by both males and females.Camille being the unwanted child, suffered the deprivation of her mother's love and attention, that Madame Claudel preferred to give instead to her younger sister, Louise and brother Paul. Her father was somewhat more available emotionally, yet he was often more involved in his career.Camille sought as all children do the delight and admiration of their parents.
Unable to win the love from her mother, she sought solace in bringing home clumps of clay that she loved to model.By her teens, Camille was passionate about sculpting, despite her mother's strong disapproval. It was only her father who encouraged her and made plans for the family to go to Paris, so Camille could study sculpting.It is in our childhood that the moulds are cast, that often forever shape our perceptions of ourselves and relationships.
From then on, we are continuously trying to heal from whatever hurts , neglect, we had to endure during our formative years.When Camille met Rodin, she thought she had finally found the love and passionate devotion she had never experienced before and she in return gave all in return to maintain his devotion to the extent that she emptied herself.
Rodin was not satisfied being loved by two women, any more than he would allow himself to be available to either one.
Narcissists are like parasites who attach out of need for love and admiration, that they are unable to feel for themselves, but likewise are unable to give back to anyone else.
In Camille, Rodin had the admiration and devotion, but he also milked her talent and ideas and acclaimed it as his own. Many works of Rodin are influenced by Camille Claudel and not the other way around.Art historians contend that Rodin's style changed after becoming involved with Camille.
Some art historians say that many of the statues seen in the Rodin museum where obviously sculpted by 4 hands, not only the two of Rodin!Yet, only a few are credited to the hands of Camille. She was said to have been the model and inspiration behind The KIss.
It was true that in her day, women sculptors were often over shadowed by males, who for centuries dominated the art. Camille in particular was noted for her sensuous nudes, that inspired Rodin's works.It was not considered appropriate nor proper for women to show their erotic notions through any art form, especially sculpture.
Camille's devotion to meeting her mentor and lover's demands went far beyond sculpting with him.
Tragically she gave in to his refusals to allow her to bring the babies she conceived by him to life and painfully submitted to his demands that she abort.
How many abortions she endured are lost and hidden in obscurity to the public. I am pro-choice but would never succumb to the wishes of a male.

It isn't difficult to understand how these events became a tortuous and emotional hell for Camille.

After approximately 10 years together, their passionate affair dissolved when Rodin announced that despite her love and devotion, he would never marry her.
Camille had never lived with Rodin, as he seemingly preferred the ease of living with Rose Beuret, despite her raging jealously over Camille.
Rose too had conceived a son with Rodin
The Assistant
Camille always wanted to become an artist. She attended classes at the Académie Colarossi, on the Rue de la Grande Chaumière, because the most prestigious École des Beaux-Arts did not admit women at this time.
  
Auguste Rodin, The Gates of Hell, 1917, Kunsthaus Zürich, Zürich, Switzerland
When Rodin received his first major commissions in the early 1880s, he gathered together a team of assistants to work alongside him in his studio. Camille turned up in the artist's working studio as a young, 19-year-old student circa 1884.
It seems that she spent most of her time on difficult pieces, such as the hands and feet of figures for monumental sculptures – including famous The Gates of Hell. She sought recognition as an independent artist at the Salon. Between 1882 and 1889, Claudel regularly exhibited busts and portraits of people close to her at the Salon des Artistes Français.
The Muse
  
Auguste Rodin, Mask of Camille Claudel and left hand of Pierre de Wissant, circa 1895, Musée Rodin
The two sculptors' complicated love story has inspired many romanticized interpretations. The fact is that this intense love affair, encompassing their personal and professional lives, inspired both artists. Rodin modelled several portraits of the sculptress, including Camille Claudel with Short Hair and Mask of Camille Claudel. I Am Beautiful and Eternal Springtime, originally intended for The Gates of Hell, are the proof of how passionately Rodin felt about Camille.
The Second One
       
But there was one problem. Rodin had been in a relationship with Rose Beuret for the past 20 years, whom he didn't want to leave. Claudel never lived with Rodin, and from time to time she herself felt the need to keep some distance between them. For example, when Claudel returned from a refuge in England, Rodin was so happy to see her again that he signed an extraordinary "contract" in which he promised that she would be his only pupil and swore to be faithful to her.
In 1892, after having had an abortion, Claudel ended the intimate aspect of her relationship with Rodin, although they saw each other regularly until 1898.
The Artist
Claudel could not get the funding to get many of her daring ideas realized due to their sexual element, and thus she was forced to either depend on Rodin or collaborate with him and let him get the credit as the lionized figure of French sculptures. Rodin obviously signed a number of her works. She also depended on him financially since after her wealthy, loving father died, her mother and brother who were suspicious of her lifestyle kept the money and let her wander around the streets dressed in beggars' clothes.
    
After the break between Camille Claudel and Rodin, the latter tried to help Camille indirectly and obtained a state commission for her from the Director of Fine Arts.

Maturity

was commissioned in 1895, and exhibited in 1899, but the bronze version was never ordered, and Claudel did not deliver the plaster model. It was Captain Tissier who finally commissioned the first bronze in 1902. After Rodin saw The Age of Maturity for the first time in 1899, he reacted with shock and anger, and suddenly stopped his support for Claudel completely. He even might have put pressure on the ministry of fine arts to cancel the funding for the bronze commission.
The group evokes Rodin's hesitation between Rose, who finally wins the race, and Camille who is reaching forward to stop him from leaving her. The details of her personal story apart, Camille produced a thought-provoking symbolic work about human relationships.
The End
After 1905 Claudel appeared to be mentally ill. She destroyed many of her statues, went missing for long periods of time, exhibited signs of paranoia and was diagnosed with schizophrenia. She accused Rodin of stealing her ideas and of leading a conspiracy to kill her. Her family closed her in an asylum. Doctors tried to convince them that she shouldn't have stayed in such an institution, but they still kept her there. The hospital staff regularly proposed to Camille's mother and brother that Claudel could have been released, but they adamantly refused each time.
   
Camille Claudel died on 19 October 1943, after having lived 30 years in the asylum. In September 1943 her brother Paul had been informed of his sister's terminal illness and with some difficulty he crossed Occupied France to see her but was neither present at her death nor at her funeral. Her body was interred in the cemetery of Monfavet. Her remains were buried in a communal grave at the asylum.
         
How about Rodin? After fifty-three years into their relationship, he married Rose Beuret. The wedding was 29 January 1917, and Beuret died two weeks later. Rodin himself was ill that year; in January, he suffered weakness from influenza, and he soon died.