Worthiness
White Lives Also Matter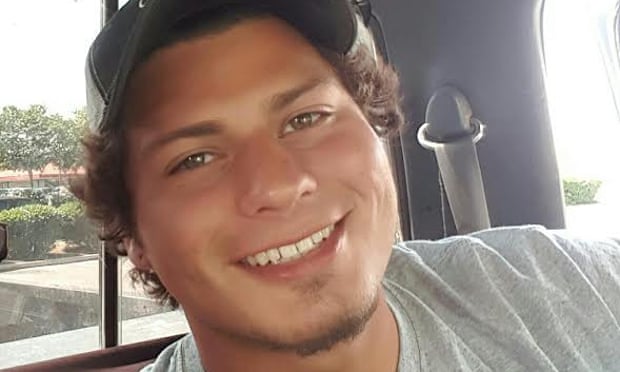 Demonstrations over Dylan Noble's death – friends of the unarmed teen shot by police say they only want justice
Dylan Noble was killed by police during a traffic stop.
I haven't written a post in quite a while. Frankly I am disillusioned with the LGBT online community and its rampamt case of Cognitive Dissonance, for example:
Those damn recaps, or an Interview with Tegan and Sara, blathering on about their 17 year career in the music industry as if that will actually  result in anything substantive being done to end the cycle of gun violence that took the lives of the: Voice finalist Christina Grimmie and the patrons at Pulse Nightclub  in Orlando Florida, June 2016.
I told a close friend about how disappointed I was at the lack of input my blog receives despite the high number of visitors.  My friend replied: "Fuck, those bitches, take down the page where they can view shows and movies for free."
Well I wasn't that reactionary and chose instead to take down some interesting posts that I had written about Cate Blanchett's Oscar snub.
But hey those sites are only pandering to the Dominant Culture: A culture that is perceived as most powerful, widespread, or influential within a social or political entity in which multiple cultures are present.
In a society "Dominant Culture" refers to the established language, religion, values, rituals, and social customs and that is more important right? It's in their best interest to not upset the status-quo (Overwhelmingly considered "White" in the U.S.) by deflecting to real issues that face women, people of color, the disabled and the LGBTQ communitiesof color or the LatinX Queer friendly Community.  Sites like AfterEllen and Dorothy Surrenders are very good as not upsetting the status-quo.
Notice the glaring lack of substance on both sites (In the context of recent newsworthy events). Yeah Fuck Those Bitches.
Hmm let's see: The victims at the Pulse Nightclub shooting were overwhelmingly of color (Latino and African American).  Therefore it is safe to assume that if the dominant culture in the United States is seen as being a result of Western European colonization then our issues are relegated to secondary or tertiary importance.
This rant is about "Us", our lives and the way others view us and how we subsequently view ourselves.
The Looking Glass Self
Termed by C
harles Horton Cooley in 1902 (McIntyre 2006), as the "Looking Glass Self" which generally posits that  an individual's sense of
self grows out of society's interpersonal interactions and the perceptions of them by others.
So what happens when your readership is comprised of visitors the world over and yet the only things deemed important for posting are images of mostly white people?
Hey I do it also, but that doesn't make it right because I am just as guilty.
However in my defense I fully acknowledge my flaws unlike for example the editor of Dorothy Surrenders who, even though she is an Asian woman as well as being a half-ass lesbian, panders to such to such an extreme  degree to her overlords that she may as well had been born white because she will inevitably write a blog post refuting this post by whining and crying that she doesn't bother anyone.
The result: Being financially rewarded for doing nothing…while her dumb-ass readers display odious antipathy to authentic human suffering.
Goddess forbid AE or even DS show some backbone and dare speak truth to power because the writers should at minimum know that the term: Looking Glass Self refers to people shaping their self-concepts based on their understanding of how others perceive them.
Therefore if certain groups don't see themselves as worthy of being reported on in certain online venues then the subsequent readership of those venues can internalize the "Unworthiness" reflected in American society.
I commend the site Autostraddle for it's inclusiveness and reporting of recent police shootings..
America is after all, an interweaving and inter-working of mental selves. To compound matters we also have bigger fish to fry:
Bigger Issues!
Justice for Philandro Castile
"He was just black in the wrong place,," said Castile's mother, Valerie Castile.
The very same day the DOJ opened an investigation into the murder of Alton Sterling, another Black life was stolen by police. Philando Castile was stopped by the Minnesota police because his car had a broken rear light, within minutes, he had been shot four times. He died shortly after at the hospital.
Demand that the DOJ investigate, charge and arrest the officer who shot Philando Castile and watched him bleed to death in front of his girlfriend and her four-year-old daughter.
Police stopped Philando Castile and told him to present his license and registration. Castile told the police that he had a legal firearm, but was just reaching for his wallet. When Castile did what he was asked to do, and reached for his license and registration, the officer began shooting. The officer who shot Castile has been placed on administrative leave, and will continue to be paid.
Castile's girlfriend, Diamond Reynolds, filmed the aftermath of the shooting. She films Philando crying out in pain as blood soaks through his white shirt while the officer continues to point a gun at him.
Reynolds is heard on video (graphic):
"I can't believe they just did this," she says. Then she screams.
"It's OK," says her 4-year-old daughter, "I'm right here with you."
This 4 year old child saw a policeman fire his gun at her father at least 4 TIMES!
This is just another way white supremacy ensures that future generations are so emotionally traumatized they will never be successful as adults.
Hopefully her mother will seek counseling for her daughter.  This is UNFORGIVABLE!
This cowardly white man should have never become a police officer, seems like Millennial white males are America's biggest cowards.
Philando Castile was killed on his way home from getting a haircut for his upcoming birthday. He would have turned 33. His mother told CNN, "He's not a gang banger;… more
Of course he wasn't a gang banger, you could get a sense of his character by the reaction of his girlfriend who worked to calmly DE-escalate the situation.
You could tell he wasn't a gang banger by his 4 year old daughter's comforting words to her mother: "Mommy….I'm here with you"
You have the power to create change.
Justice for Philando Castile, yet another Black man i

s getting so unbelievable. Every time the news is seen, people are shot in cold blood for NOTHING, peoples beloved pets are shot and killed, and all by police who are supposed to be protecting us. The police never seem to pay a price, just a slap on the wrist. Something MUST be done. This is no longer America, but a police state.
Help!
Oh and then there's this prick: