UPDATED:

Some CLOWNS masquerading as Christians, many of whom (Like yours truly) already have enough issues to deal with,  have taken it upon themselves to edit Wikipedia so that the entry for Bartolomea Crivelli now reads that she is a fictional character. 
Trust Me, Bartolomea Crivelli was as real as the day is long and she was for  2 YEARS Sister, and Abbess Benedetta Carlini's LOVER. 
This relationship was the basis, and subject for a scholastic dissertation by Scholar Judith Brown (Complete with accompanying research,) and not just wishful thinking.

Every time I remember a new factoid about this awesome movie I will add it to this post. 
I was raised to be a practicing Catholic (I am NOT a practicing Catholic, I was just raised to be one.   From Baptism to Elementary Parochial school (grades 1-8).  Which included: Confession, Communion (Eucharist),  Sunday Mass (Liturgy,) and Confirmation.  Not only did I believed that Heavenly Dieties Existed, but that they were all Western European (and despite my own northern European DNA, I was a STILL a child of color,) WHAT?!!  Yep, I was all in, the whole 9 yards.  The Indoctrination started on day  – ONE! of 1st grade in Catholic school.

As a result, I am in LIFELONG Recovery from the Devastating, and Deleterious Effects Of Catholicism.
Sweet Dreams
Love In The Dark – Cover  By Leroy Sanchez
SCROLL DOWN For Something Special
J

ust Close any REDIRECT Windows that open.

Playing 

HERE
For this Blog Entry, I will look at Faith through the lens of theatrical absurdity and ambiguity.

Paul Verhoeven's  French-language Benedetta,  a film about Lesbian Nuns gives the viewer theatrical absurdity and ambiguity in spades, in  a film that opens with a young  Benedetta Carlini (Elena Plonka) being taken by her parents in a carriage to join a convent.
The family comes under attack from armed soldiers on horseback – one of whom snatches a golden necklace from Benedetta's mother (Clotilde Courau) – that's when little Benedetta boldly intervenes, warning the soldiers that if they do not return the necklace, the Virgin Mary will bring down a curse upon them. Moments later, a bird defecates on one of the soldiers, and with a laugh they return the necklace. 
You shouldn't go into this movie expecting an all out lesbian sex festival, because despite the photos on this post there aren't many lesbian sex scenes.
However, there is foreshadowing to Benedetta's lesbianism in the scene where a young Benetta lay trapped under a large statue of the Virgin Mary that fell on her.  Apparently, one breast was exposed on this statue (There were never any statues with wardrobe malfunctions when I went to Catholic school,)  pinned under the statue of Mary,  that young Benedetta lifts her head up and tries to suck on the nipple before being interrupted by the nuns who came to investigate the crashing sound.

The full-on lesbian sex that does occur in this movie is INTENSE – Courtesy of Bartolomea Crivelli (Daphné Patakia) — a peasant girl who arrives at the convent.
ENTER Bartolomea Crivelli

(A REAL Person)



Bartolomea is desperate to escape her abusive father and is also, wouldn't you know it; SUPER HOT!!, and why wouldn't she be? …of course, she is…and…Oh My..a Nun in sexual climax, gasping 'Sweet Jesus'
..W.ait..WHAT?!! 
I am getting ahead of myself.
So you may as well settle in with a nice cool drink, cozy T-shirt, comfy sweatpants, and warm slouchy socks because the movie is over 2 hours long (2:11:00), and that's because nearly an hour passes before there is anything even remotely resembling lesbian sex occurring.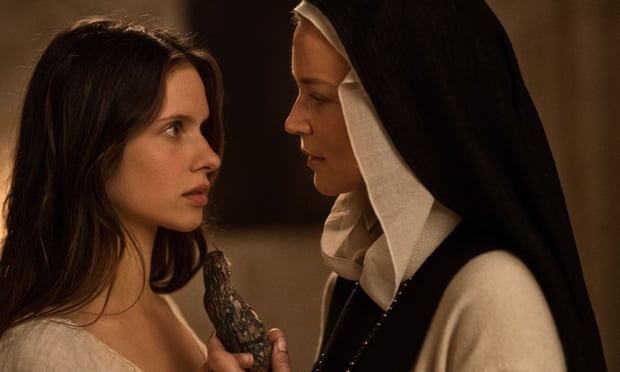 In all its ambiguity, the opening scene of Benedetta is symbolic of what will follow. It is unclear whether this precocious, sharp-witted girl has served as a conduit to bring down divine wrath against her persecutors, or she has merely engaged in an act of opportunistic theater (It's pretty clear which it is)– and that ambiguity will continue for the rest of the film, as the viewer is asked to determine whether Benedetta is saint or sinner, Jesus' chosen wife or charlatan. Wait!!  "Chosen Wife?"
I thought that Mary Magdalene was Jesus' chosen wife? And, why is it that the Mother of Christ and a whore have the same name?   See what I mean? What do you mean, you don't?  Well, keep reading because my disdain for the Catholic church becomes clearer by the end of this post.

The first thing Benedetta will see when she arrives at the nunnery in Pescia, Tuscany, is a bawdy actor on a wooden stage outside the convent building with a torch to deter men in skeleton costumes from taking him (Away). Utter Absurdity.

Then (nearly twenty years later,) we see Benedetta (Virginie Efira,) as a young adult nun having a vision of Jesus, as she is herself is now on stage playing Mary (Which Mary?) in a Passion play.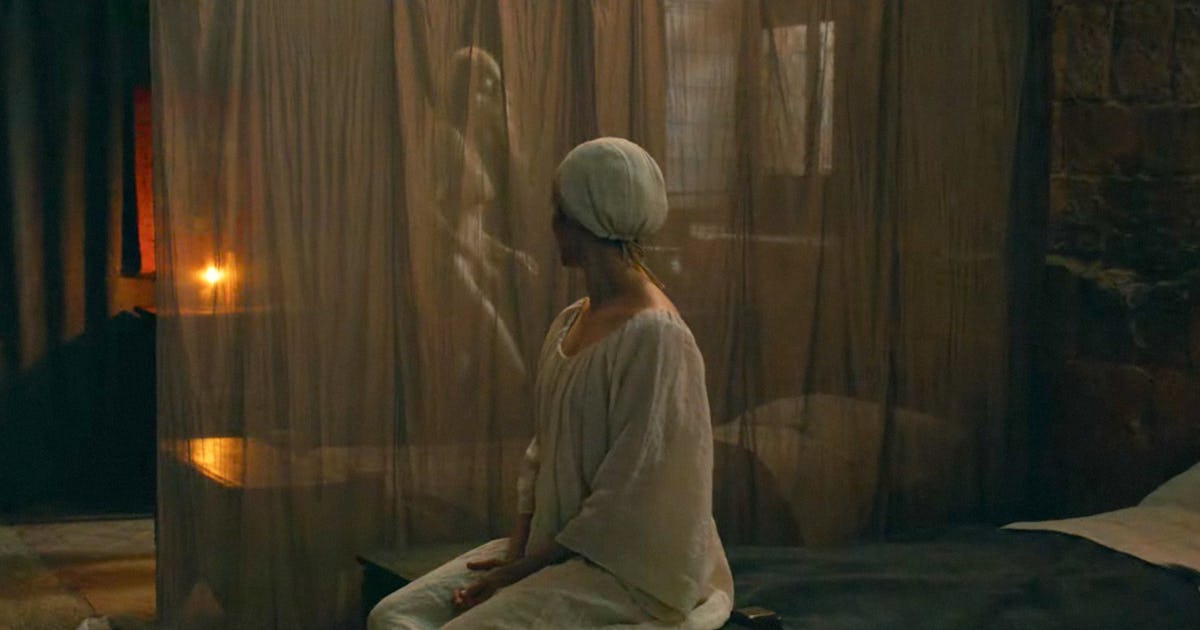 A fun scene is illustrated by the photo (right) Benedetta has stripped for bed and while she is in another room Bartolomea throws
Benedetta's nightgown on the floor so that Benedetta will need to enter Bartolomea's viewing range while still naked in order to retrieve the item.
And what could be better than a shy Benedetta informing novice Bartolomea that they aren't allowed to see each other naked, only…
To then emerge as a fully nude, and self-assured Benedetta sexily sauntering up to Bartolomea and placing the latter's hand on Benedetta's Hoo-Haa!!                
Well, Lawdy! Clutching My Pearls
Bartolomea had some Crazy Mad Skillz Yo!  For she turneth out Sister Benedetta!
All Good Things Must Come To An End
When an ambitious Provost (Olivier Raboudin) conspires with the rather less enthusiastic Abbess a Mother Superior (Charlotte Rampling,) to present Benedetta's further visions and episodes as divine miracles, they do so less out of any real faith in Benedetta's blessedness than as a political maneuver to help put Pescia on the map.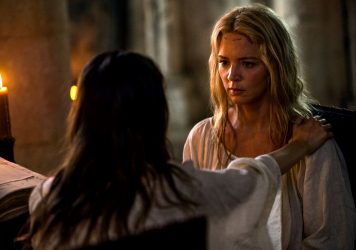 Remember, everything is theatrical in this movie,  a  performance for the eyes of those within and outside the convent's walls, and especially YOU the viewer.
In a confined world where women exercise very little freedom or control over their own bodies, Benedetta's wounds and stigmata, whether heaven-sent or self-inflicted (most likely the latter,) are empowering – and as Benedetta becomes a figure of worship to the townsfolk and is elevated to the role of Abbess displacing Rampling's sister Felicita, the mordant and aloof abbess, who doesn't 'believe for one bit 'on Benedetta's consummation with Jesus and surmises that  Benedetta is merely insane, and manipulative.
Nonetheless, Benedetta can for the first time use her public profile to lead the town in measures to keep out the plague – while herself indulging in the sexual pleasure that the younger, more worldly novitiate Bartolomea (Daphne Patakia) brings to her with fingers, tongue and a dildo (whittled blasphemously from a statuette of Mary (You choose which Mary).
EDITORS NOTE: I have read other lesbian+ blogs, and watched several movie reviews on YouTube, and have come to the conclusion that some of these individuals probably did not watch this movie, or are intentionally misrepresenting it for some unknown reason.  In totality, there is less than 10 minutes (In a movie that is 2:11:00) of what can be described as Lesbian sex and we never see the Dildo that was carved from a statuette in action. Viewers never see much more, than sporadic frontal nudity that did not last long, and we only see Virginie Efira moaning and feigning sexual climax.  Detractors who say that these scenes are pornographic.  Well, I have watched porn and this movie was definitely NOT it. Which simply reinforces Verhoevan's masterful directing.
Who else can make you think that you've watched something that never actually occurred? I mean other than late director Alfred Hitchcock's shower scene in the movie Psycho?
(Censors at first rejected the shower scene became they felt it too explicit).  Hitchcock resubmitted the same UNEDITED scene after lying that he has removed the explicit parts, and the censors then allowed it. The same goes with the scenes in the movie Benedetta of non-self-inflicted torture.  We don't see Bartolomea being tortured, we hear one scream.

Neither is this movie a titty party, or festival of Boobs (a.l.a Verhoen's: Showgirls).  WHAT?!! G.T.F.O.H with that unenlightened bullshit.  If you are going to phone your movie reviews in, then at least put a little more effort into making it appear original or, Get Off The Internet, with your limited frame of reference.  What are you waiting for? GO, already!

The Problem
The Catholic Church is notorious for its intolerance of any threat to patriarchal norms, and Benedetta's personal liberation, not to mention her charismatic leadership, look a lot like heresy – and heresy risks being punished with death by fire or, as in the real Benedetta Carlini case, imprisonment for a long, long, long time.

This film set in 17th-century Italy is, as the opening text declares, "inspired by real events."  Verhoeven and David Birke's screenplay is based on the life of the nun Benedetta Carlini, drawing on Judith C. Brown's 1986 historical study: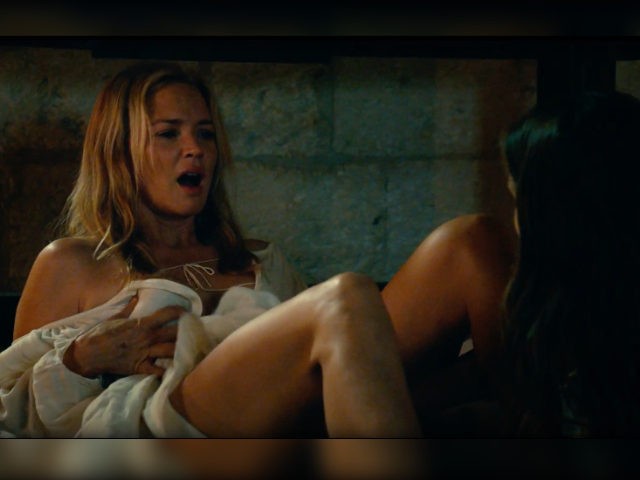 Immodest Acts (although omitting the book's more sensational subtitle:  The Life of a Lesbian Nun in Renaissance Italy). 
Which I first learned about as an attending freshman at Mount Holyoke College, in South Hadley, Massachusetts.

Of course, the movie Benedetta is also greatly influenced by "nunsploitation", a now largely passé genre whose key films included Ken Russell's The Devils ( I watched; The Devils over the weekend, it's very violent indeed, WITHOUT any lesbian sex,) but again the movie accurately depicted the violence inflicted by the power-hungry Catholic Church iin its attempt to consolidate the various churches under one central base of absolute power, along with Domenico Paolella's Story of a Cloistered Nun and Walerian Borowczyk's Behind Convent Walls and whose stock and trade was Sapphic sex, flagellation, and torture. 
This is where I depart with those who claim that Bartolomeda betrayed Benedetta.  She didn't, she was being TORTURED By The Nuncio.  But, ultimately, it was Bartolomea who saved Benedetta from the flames of The Nuncio's Iniquity.

This Film is anti-clerical, exposing the Church's sexual hypocrisies, as well as its greater interest in extorting money for itself than in helping others.  And, unfortunately, 100s of years later not much has changed within the  Catholic Church
The film also explores the church's heinous assault on women as male church officials subject nuns to torture in an effort to extract information.

As for faith, viewers are invited to bring their own and to determine for themselves to what extent Benedetta is real mystic or holy fake (Clue: NONE of it was real, because Religion is Fake, based on a series of false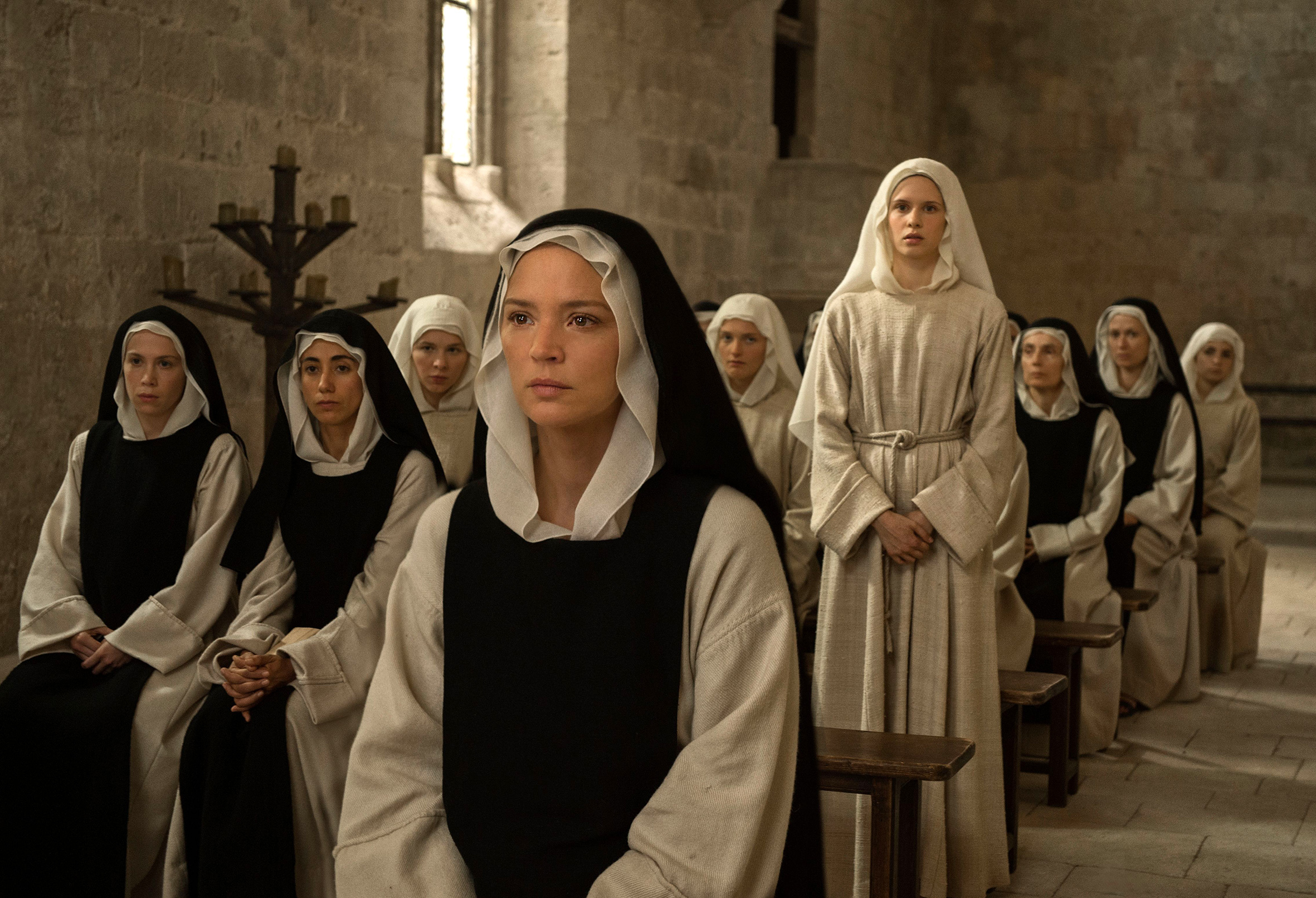 beliefs, established through lies created by men, intended to solely benefit men), and this is reinforced by what Batolomea finds after she and Benedetta escape to the abandoned building (Bartolomea a shard of broken glass, used to create the Stigmata that Benedetta claims were from Jesus).

A Good Woman Is Hard To Find
 As Benedetta's partner,  Bartolomea was a solid lover, who stood by her woman to the end (Well except for that torture thing).
I was disappointed that Benedetta chose to return to the church after all that she and Bartolomea had been through because Bartolomea (At least in the movie version) had been banished from the convent, and Benedetta was certain to face wrath upon her return to the convent, and that is exactly what happened,
For penance, Benedetta was forced to live a cloistered life, living quietly without involvement in the normal busy daily activities of the convent, and even though Benedetta was allowed to dine with the other nuns, she was allowed only if she sat on the floor.  Trust me, if Bartolomea had money, they would have permitted her to stay, and in fact, that is exactly what happened courtesy of Mr Carlini.  However, their relationship was done.

I can see it now, Benedetta and Bartolomea both sitting on the floor across from each other sharing a bowl of Chicken Cacciatore or Hot Wings, washed down by a chalice of Ice-Cold wine (Don't know where the Ice came from, probably the local VII-XI' (A.k.a 7-11 A.D.).
I mean isn't that what the Catholic Church is ALL about anyway? Money, Money, Money.
Don't get it twisted because I am NOT alleging that the good deeds some Catholics perform are borne out of a desire for money, I am specifically indicting the Vatican, which is the wealthiest non-tax paying principality on earth.
If you remember: Benedetta's father was steadily supplying the Convent with goods or money, on an annual basis per his agreement with Abbess Felicita.
Unfortunately, Benedetta couldn't intercede on behalf of Bartolomea, as Benedetta was knee-deep in trouble herself meaning that in the movie, Bartolomea was figuratively thrown under the horse-drawn carriage after Benedetta abandoned her to return to the convent.  That is really Fecked up.

In fact, Benedetta's father also paid for the convent to initially take in Bartolomea (A gift to his daughter Benedetta for her birthday).  See, I catch EVERYTHING!

| | |
| --- | --- |
| Mean Ass Nun | UGH!! Nuns can be some mean-ass B!tches for sure, and I remember a yardstick being slammed on my desk just for turning and smiling at another girl in class because she did/said something cute and/or funny. |
But I digress.  Suffice it to say that, I understand that life in the convent was the only life Benedetta knew.  So despite Bartolomea wanting to continue her relationship with Benedetta, the unknown proved to be too much for the latter:  A woman who was dealing with some serious Mental Health issues (she was Bat-Sh!t Crazy!) that even being 'shielded' by 'God's spiritual armor proved not to be enough to provide the emotional and spiritual courage required to face an unknown world that freedom from the church, offered.
Believe me when I write that I am well aware of the fact that identifying Benedetta as "Bat-Sh!t Crazy" is cruel, but there was no way to diagnose mental illness back then so applying this century's psycho/medical standards is rather useless.

| | | |
| --- | --- | --- |
| NOT Benedetta Carlini |  Benedetta Carlini still got the last laugh, when she became Catholicism's 1st Lesbian Saint, and I don't give a fuck how much that fact is disputed. See, in death, Carlini is still revered. So To All the LGBT+ Catholics, CONGRATS! | Virginie Efira as Benedetta Carlini |
In the best of all possible scenarios (In my mind), Benedetta and Bartolomea have been allowed to serve Benedetta Carlini's sentence together in peace, and in fact, the later life of Bartolomea Crivelli was revealed by an unknown nun on 18 September 1660, who wrote in the diary: "Sister Bartolomea [blank] died [today?]; she was known as Sister Benedetta Carlini's companion (during their affair as the two were always together,) and because of this Bartolomea experienced difficulties.
Possibly, Bartolomea had been recognized as a victim of deception and coercion (Whatever excuse it takes I guess) and had not been punished by ecclesiastical or secular authorities, and may have been stigmatized for a time by the other nuns,  having to endure occasional reminders of her misdeeds, but she appears to have spent her time as an ordinary nun.
In temporal affairs, Bartolomea worked as hard as she could and in spiritual affairs, she was very devoted and totally given over to holy prayer."
A Happier Ending
FilmThe RightThing

wrote it best:
  Film The Right Thing replied: "We could only be so lucky as to have a Bartolomea in our lives."…… Amen To That!
It's clear that I enjoyed the movie Benetta a hell of a lot. 
The movie Benedetta was hella sexy, dramatic, funny in all of the right places and BTW, the cinematography was brilliant, pastoral, sublime, providing scenes that are reminiscent of works by great Italian painters. A-